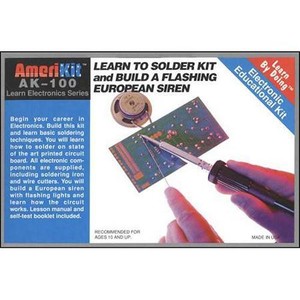 We recently held a workshop on learning to solder. We had 12 makerspace enthusiasts attend.  Some were getting a refresher and others were new to the art of connecting wire with hot metal. We had a great time!
We assembled the kit pictured above.  Everyone enjoyed themselves and definitely got a solid intro experience to this key maker skill, but the end-result of the kits were a little anti-climatic on features, so we'll be looking for a more expansive kit next go around.
If you're interested in future classes in the maker workshop series at HackRVA, just follow us on Meetup. We're going to be doing CAD, wearables, and basic electronics in the near future.